Piano Technician, Las Vegas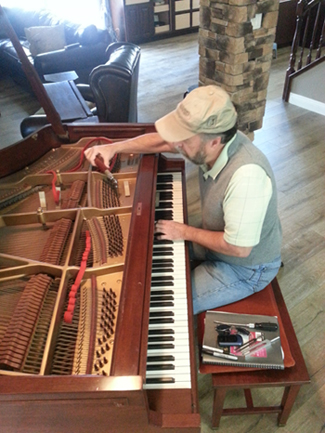 After tuning for 47 years and around 24,000 pianos I enjoy tuning pianos more today than at any time in my life! In other words leaving a home knowing I made their instrument a beautifully tuned piano just never gets old!
I look forward to tuning your piano and it doesn't matter to me if it's a STEINWAY GRAND or a small KIMBALL SPINET as no matter what kind of piano you have I will give it the JOHN NIEMS MASTER TUNING IT DESERVES!
Call me today! I also will play you one of my original songs when I'm finished! I look forward to hearing from you!
Here's a sample of how great the piano sounds after JOHN TUNES IT UP!
The Work HISTORY of John Niems… 
With a delicate touch and an unparalleled ear for harmony, John Niems stands as a true virtuoso in the world of piano tuning. Hailing from a background steeped in musical mastery, John has earned a well-deserved reputation as a 5-star professional piano tuner, consistently delivering unparalleled excellence in every note he touches.
Having graced the stages of legendary concert facilities in the entertainment capital of the world, Las Vegas, John Niems has finely tuned the instruments that have set the backdrop for some of the most mesmerizing performances the world has ever seen. From the iconic showrooms of the Strip to intimate venues nestled amidst the city lights, he has crafted the perfect resonance for artists and audiences alike.
But John's expertise extends far beyond the city limits of Las Vegas. His name resonates among the stars as he has earned the privilege of tuning pianos for a constellation of esteemed celebrities. The list reads like a who's who of music royalty – from the Purple One, Prince, to the soulful Smokey Robinson, the extravagant Lady Gaga, the soul-stirring John Legend, the electrifying Bruno Mars, the legendary composer David Foster, the velvety-voiced Anita Baker, and the versatile entertainer Martin Short – Dionne Warwick – Siegfried and Roy and the LATIN GRAMMYS all have entrusted their pianos to John's skillful hands.
It is no wonder that the most discerning artists and venues clamor to secure his services, as John Niems approaches each tuning with an unwavering commitment to perfection. He believes that a piano is more than just an instrument; it is a gateway to emotions and a channel for creativity. As such, he leaves no key unturned and no string untouched, ensuring that every piano is transformed into a harmonious masterpiece that befits the artistry of those who play upon it.
Beyond his unparalleled skill, John Niems brings warmth and professionalism to every engagement, forging lasting relationships with the artists and venues he serves. Pianos are not just inanimate objects under his care; they become a shared passion and source of pride.
In the realm of piano tuning, John Niems is more than an expert; he is an artist, a companion to the stars, and a guardian of the musical experience. With every tuning, he weaves a symphony of precision and passion, ensuring that the notes played on these legendary instruments continue to resonate in the hearts of audiences for generations to come.
He gives a concert like this one here with one of his many songs that he has composed!
Here's another example of a MASTER TUNING by John and in this case he records his piano part immediately after he tuned it! LISTEN HOW PERFECT THE PIANO SOUNDS FOLKS!!!!
Here is another example of my tuning and then recording right after and this is my MOM'S PETROF 5 foot 8 inch GRAND PIANO as I recorded this in her house!
Piano Tuning Reviews
"After moving my grand piano here to the desert, my piano had multiple issues. John Niems resolved each of them effortlessly. My piano sings again ! ! ! We highly reommend him as a technician as well as a tuner, and I've used many tuners over the years." —DEX
"I've played piano most of my life (I'm 55) & I know a thing or two myself about pianos. I've had John Niems tune 3 of my pianos – one console & two grands. He is the best piano tuner I've ever had & loves his work, even after 30 yrs. He listens to your concerns & comes as quickly as possible to rectify an issue. I've always been very pleased. Don't let the chattiness & silly jokes fool you. The man really knows his stuff & doesn't rush through the process. Remember that pianos have to be well taken care of & often times, depending on lots of things, especially the seasonal changes, & air conditioning, heating, piano placement in your house, your piano may have to have more than one tuning a year. You can trust him. When I came to Las Vegas 10 yrs ago, I kept fishing around for a tuner & was always disappointed because I have perfect pitch. John doesn't charge any more than the other terrible tuners I've encountered, yet he can spend as much as an 1 1/2 hours on a piano, if it hasn't been tuned for a long time or was tuned incorrectly to begin with. He likes animals, too, which is a plus if you have them! :-)"  —Janice
"After moving my grand piano here to the desert, my piano had multiple issues. John Niems resolved each of them effortlessly. My piano sings again! ! !  We highly recommend him as a technician as well as a tuner, and I've used many tuners over the years."
"I rely on John's expertise for all my tuning needs both personal and professional. Not only is John excellent at what he does but an added bonus is his great attitude! John is professional, reliable, and loves what he does. I have a large teaching studio and recommend all my students have their pianos tuned by John Niems. No one has ever been disappointed in his tuning….he makes our pianos sing!" — KIM DOTTS (has over 100 students too!)